Press article - pulsed light sterilization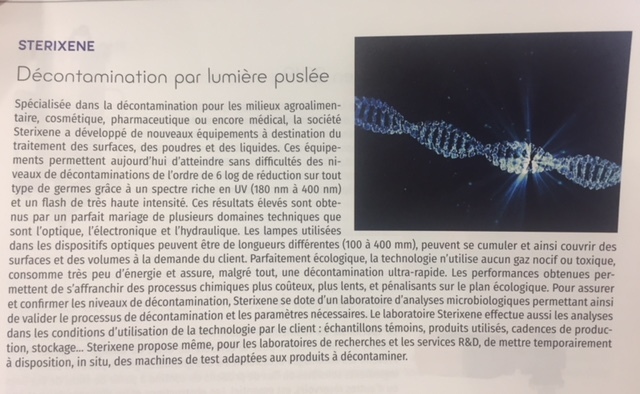 You will find this article in page 7 of the "Santé Beauté Industrie" magazine. 
Follow the link  : https://fr.calameo.com/read/0041074686fe8b8c8e587
Translation : Specialized in the disinfection system for food, cosmetic, pharmaceutic industries, Sterixene developed new system for surfaces, liquids and powders decontamination. The equipment could permit to reach 6 log reduction on different germs thanks to a large spectra, rich in UV (from 180 to 400 nm) and high intensity flash. the lamps used could have different sizes (from 100 to 400 mm), could be added and cover the surfaces requested by the customer. 
(...) Perfectly eco-friendly, the technology doesn't use toxic gas, the electrical consumption is reduced, and permits a ultra-rapid disinfection. To confirm the disinfection level, Sterixene proposes microbiological tests in its own laboratory. (...)
Sterixene proposes also to make available to R&D groups, or research laboratories, a lab equipment.